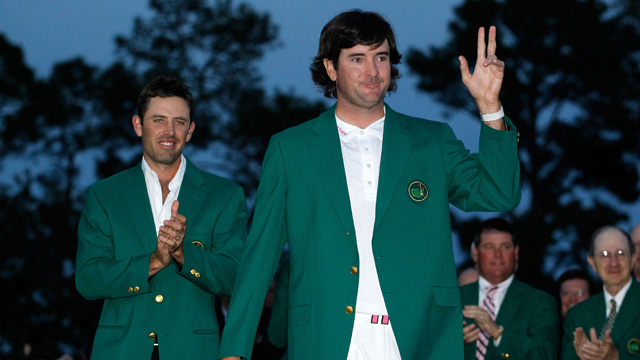 I am a self-proclaimed "football girl."  So why am I unable to resist glancing at my tv, every now and then, to watch the Masters Golf Championship in Augusta?  Certainly, there are no gorgeous male thighs in spandex. . .the dramatic plays come ONCE AN HOUR. . .and they don't let women in their Club?!?!  Well, the NFL news this week (besides the new uniforms—big whoop) is all about thug behavior by coaches encouraging players, with brutal rhetoric and MONEY, to inflict potential career-ending injuries on opposing players.  Do I want to dwell on that?  Don't think so.
I will focus instead on this weekend's final rounds of the Masters.  It is a sport, and we identify the best in ourselves through sports.  It's the common passion that has the power to break down the walls between us, no matter your hometown, religion, politics, race.  As I say in my book, Mandela united a country with a rugby match.  He knew that, "Sports can awaken hope where there was previously only despair."  President Obama said, "When you watch sports, the concerns of everyday life disappear."
So there I was, wanting my concerns of everyday life to disappear, watching even the pre-show to the final round of the Masters:  "Jim Nantz Remembers Augusta—the 1987 Masters."  Omg—it has come to this.  Okay, so there's Greg Norman in 1987, shiny blond, gorgeous hair tousling in the wind. . .sigh. . .kind of a turn-on. . .not as good as spandex on butts, but good.  And golf is all about concentration and focus in front of millions of people—so there's the 100% commitment I love to watch.  Golf is intriguing, because it's so still and quiet—your mind must be SO loud, and somehow, these players have to quiet their minds and control their emotions in the face of intense pressure.  "If he can gather his nerves and emotions, he can make the shot," one commentator whispers.  Larry Mize did; he made a phenomenal chip shot, and the crowd went wild.  Beautiful-haired Greg Norman is stunned, misses his putt, and the rest is history.
And now, this year's Masters.  The dramatic plays are so few and far between, it's excruciating for me to watch.  But I did watch the last few holes of each round.   So now it's Bubba Watson, catching up to Louis Oosthuisen at the 16th hole.  Louis had leapt into the lead on the 2nd hole Sunday with a double eagle!  Very dramatic, and replaying on your television right now, thousands of times. . .The golfers are very silent—the opposite of trash talking—but I imagine their internal voices are busy, trying to quiet the critic's voices in their heads:  "I know I'll never make this shot."  "Oh, shut up, you can make this shot."  "Oh no, I hear the crowd far away, cheering for the other guy, s___!  "Please, God, let me make this."  "I so suck."
Like basketball, it's all about the last few shots.  Wow, a "sudden death" (misnamed—waaaay too slow to be sudden) playoff between the two leaders—replaying the 18th hole.  Think "American Idol" singing the song over again FOR THEIR SURVIVAL.  Oh no!  They both par 4 on the 18th, so we go to the 10th hole for another sudden death  -  Bubba wins!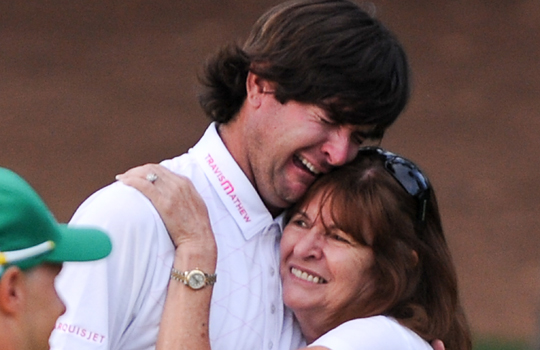 And girls like me everywhere are cheering, because he completely falls apart, bear-hugging and sobbing on his caddy's shoulders, then his mom's shoulders, then on anyone's shoulders within his reach!  How satisfying is this—me sobbing right along with Bubba (Bubba??)  What an ending!  And the story gets better!  Bubba is self-taught—a natural like in the movies–never took a golf lesson in his life!  And his wife is home with their newly-adopted first son!  And she electronically sends a photo of them!  And they show it on TV!!  Afterwards, in the interview, they ask how he did it, and he says, "I kept grinding it out."  What a lesson for us people!  I put up a sign in my office this morning—it says, "Keep grinding it out!"  And thank those critical voices in your head for sharing!
No related posts.