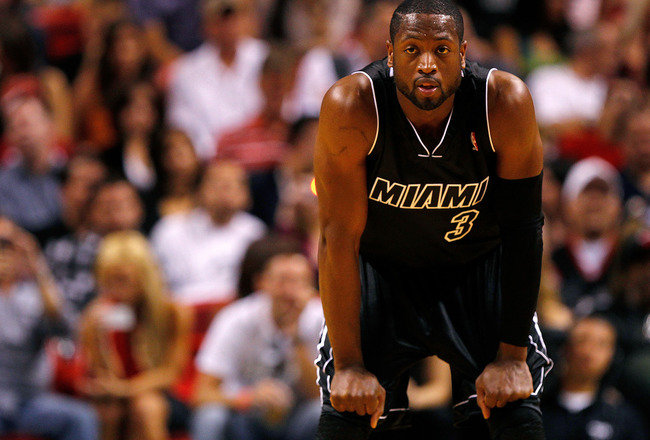 Because of the NBA lockout, this season was shortened from 82 games to 66.  In spite of, or because of this shortened season, the theme of the playoffs has been: Important – Players – Out – With – Injuries.  Derrick Rose, the dominant player of my hometown Chicago Bulls, had surgery on a torn ACL in his knee before the playoffs began.  Yup, the Bulls were gone after the first round.  Rose won't be back until December.  The Miami Heat, forecasted to win this year's NBA Championship, were decimated when star player Chris Bosh went out with a strained abdominal injury before the playoffs started.  Dwyane Wade, another star player of the Heat, is playing with injuries in the playoffs.  After his knee was drained last Wednesday, he turned in his worst performance ever the next night.  He rallied in game 4 with his best performance ever, which made it 2 – 2 against the Indy Pacers.  When asked by a female reporter after the game, "How's your health?" he said, "My health is on finishing this series."  As usual, players do not whine about injuries (would that we could do the same. . .).
The Miami Heat depends on 3 or 4 star players for their wins, which may be the reason I predict they will lose against the San Antonio Spurs, whom I predict to come out of the West for the Championship Finals.  San Antonio is a great "team," which means they have a strong bench:  backup players.  Do you depend too much on your "star" players?  What happens when the star player goes out with injury or illness?  Do you have backups? When I Goggled "backups in business" all the entries that showed up were ads for backing up your data! What about people?  Do they not trump data? Possibly not.
I believe teamwork is behind every win, every forward step by a sports team, and forward progress in your business.  We have seen the better teams win in the past few Super Bowls.  In business, we need to build great teams.  Team members have to understand how the alternative or backup team members assume and work in given situations.  This can be THE most helpful element in improving business effectiveness.  It isn't enough simply to be a team member; members have to perceive every alternative, and anticipate how to react accordingly. Team members need to know where they fit into your organization.  The boss (or head coach) are responsible for clarifying why people are in their positions and what their responsibilities are. We shall see if, indeed, the Spurs win it all.
Related posts: