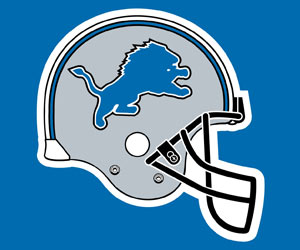 We are reinventing ourselves to survive in this economy.  I like to think of it as a "comeback."  Last year was such a down year for corporate meetings using outside speakers, I toyed with the idea of going back into Human Resources for some company, other than my own.  Then, someone quoted Will Smith:  ""There's no reason to have a Plan B because it distracts from Plan A." Great! I took it to heart, and made lots of speeches happen this year.  I made a comeback, and if you want to see really dramatic comebacks, all in the space of 3 to 4 hours, watch FOOTBALL!
The Detroit Lions (perennial losers the last few years) have won the first 4 games of the season for the first time since 1980.  They are the first team in NFL history to come back from 20-plus points down in two straight games!  I was riveted this last Sunday, when they were down 27 to 3 at one point, and watched every moment of that comeback performance!  The keys for me were "never giving up" (I kept hearing the song "Don't Stop Believing" in my head), and Discipline (I'm sure many players were tempted to commit penalties, but pushed their "pause button"— and a few did).
They all dug down deep, and so did I — for me, never giving up means to keep making the marketing calls, going to network meetings and FOLLOW UP (this takes discipline, too), and do a SUPER job every time I speak (discipline of preparing.) And this year, I'm winning!
AND—the discipline of my daily affirmations, thanks to Scott Hunter, consultant extraordinaire, of Irvine, CA.  He shared some of his affirmations with me.  I do them every morning.  Here's a sample:
"May my mind and heart be pure and true, and may I always focus on things of goodness.  Help me to be open to receive love and goodness, and please remove whatever barriers that I may have to receiving abundantly, in all areas of my life. . .Happiness is my birthright and my natural state of being. . .I choose to go through life with passion, excitement, optimism and joy. . .I am deeply loved and receive consistent love, health, prosperity and happiness."  And there's much more—5 whole pages.  It takes less than 5 minutes.
At first, over a year ago, my little judgment voice in the back of my head kept saying, "no, not really."  After a while, doing the affirmations every day, the voice stopped, and only my real voice endured.  Your word really is law in the universe.  I'm sure the Detroit Lions step onto the field thinking and feeling, "we are winning today," and they don't give up until the final whistle blows.  Don't you give up, either.
No related posts.