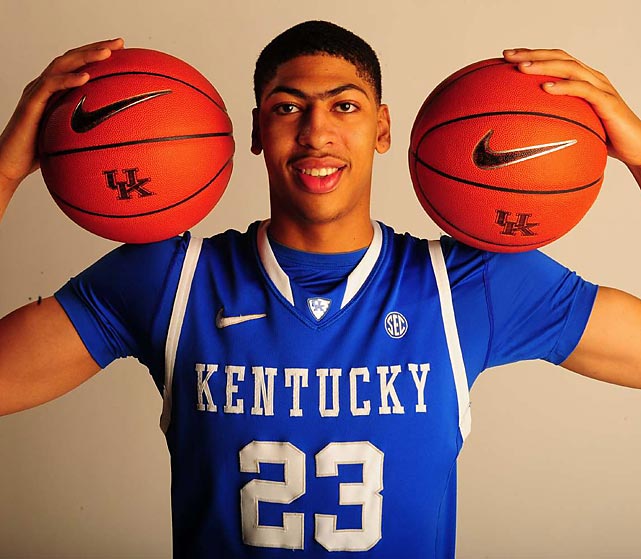 So I had a "Placido Domingo" moment the other day watching the Final Four Men's game between Kentucky and Louisville.  As you know, I don't follow NCAA Basketball until March Madness; then, I'm all over it.  So this big 6-foot 6-inch kid comes out for Kentucky named Anthony Davis, and they say he's a freshman, and I am ooh-ing and aaahhh-ing over his poise and skill and calm demeanor.  And he's a freshman!  I think I have now discovered Anthony Davis!!  It reminded me of going to the Opera here in Los Angeles for the first time.  I was introduced to my beloved opera as a child in Chicago; then, I attended many performances at the Met in New York, when I lived there in the 70's.  But here I was in LA, so I went to see Tosca for the first time.  The first voice you hear, after the Overture, is a beautiful tenor offstage.  I think it's a shepherd supposedly in the hills of Tuscany, announcing the Spring, and setting the atmosphere for the opera, when the real "stars" come out, get applause at their entrance, and start to sing.  Well, I was so impressed with this "voice" (goosies, as JLo says) that I whisper to my companion, "Wow, that voice.  He may be a shepherd now, but I have a feeling he's gonna BE somebody!"  Lo and behold, out comes the "shepherd" with the voice, and he gets a big applause.  It's world-renowned Placido Domingo, and he's playing THE LEAD!  My companion elbows me, and I say, "Oops, I had no idea."
It was like that on Saturday night.  I discovered Anthony Davis!  Not really.  The sports announcer goes on about how Davis is the best shot-blocker in the country; he is slated for the number one pick in the draft;  yadda-yadda-yadda.  Oops—another Placido Domingo moment—all to myself, since no one was there to elbow me. . .so now I'm elbowing me in front of all of you!
Back to March Madness:  the game with Louisville was SO competitive and exciting to watch!  Louisville is not as talented as Kentucky, not as big, so they make it really physical!  They exhibit the heart, tenacity, and togetherness I LOVE in any team, sports or business.  But Placido—er, Anthony Davis—has the ability to adjust to any pass that comes his way, and he is a star as Kentucky goes on to win.  This kid turned 19 on March 11—he's younger than my youngest nephew, who is the youngest person I thought I would ever know!  Davis has such emotional maturity, and such an even temperament that he is the role model for the team's control.  We shall see Kentucky beat Kansas in the Championship, I do believe.
And the GIRLS!  Don't get me started on all the "necessary roughness" in their games.  Stephanie Dolson, the 6-foot 6-inch Center for UConn, said at halftime, "We just need to stay aggressive."  I do love hearing girls say that.  We watch female players willing to give up their bodies, getting in front of a charging player from the other team, to get the foul call.  And after being hit, they have to "shake it off" and get quidkly poised to make a free throw or two.  Wow.  Real role models these girls. . .inspiring.  The most important thing for us in business these days, besides the lessons I just mentioned, is NEVER STOP PLAYING.  I know things aren't what they used to be, and many of us entrepreneurs are trying to get back to the net profits we once had, but, like these players, we cannot stop playing!  They get 40 minutes—we get 40-plus years of worklife, and beyond.  So never stop playing, and stay aggressive.
No related posts.