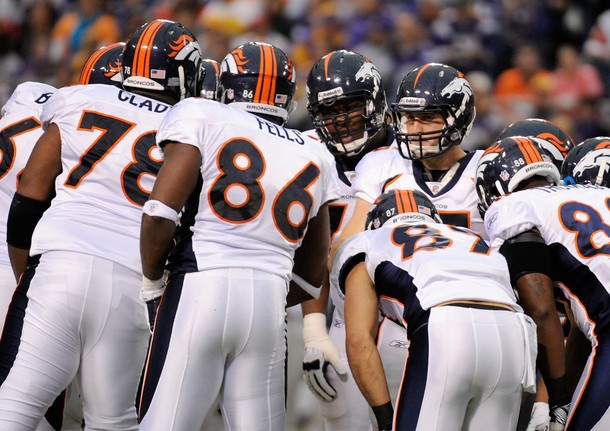 Is TRUST an issue in your workplace?  Is it an issue at home?  What can you do to rebuild it with your significant people?  Or build it in the first place? My presentations on this subject have been well received by the financial industry and others.  And I'm putting together a helpful guide full of action steps—that will be a downloadable product you can access!  Stay tuned for that!
Meanwhile, the NFL games continue to entertain and inspire and prove my points about TRUST.  To me, the trust that team members have for their leaders is obvious.  Let's look at Tim Tebow (I know—us and everyone else).  He's the quarterback—the player with the greatest visibility—for the Denver Broncos. The Broncos had a losing record before he was sent onto the field mid-season, and they've been winning ever since!  How is this possible, given that he's working with the same players as his predecessor?  The Broncos TRUST Tebow.  The definition of trust is "assured reliance on the character, ability, strength or truth of someone."  Trust is a function of character and competence, and Tebow surely has both.  He inspires his players to play their best and never give up, and always think they will win, because that's how he rolls.  They play inspired football, because they believe he will win—and he does.
Do you make people around you think they will win?  Do they perform better because of you?  The best way to do this is to MODEL best behavior yourself.  You already tried yelling at people and making them wrong, and that didn't work.  So you want people to meet you on time (even when it's the boss), you need to model that behavior.  Always be on time.  And if you want the person at home to hear you, you have to listen to them FIRST!  I know, I know, why is it always you?  Because, as I tell participants in my audience, "You are the ones who SHOW UP!"  In this case, you are the ones who READ this blog, because as wonderful as you are, you are always improving yourselves, and are open to learning more.  Thank you for that.
Related posts: