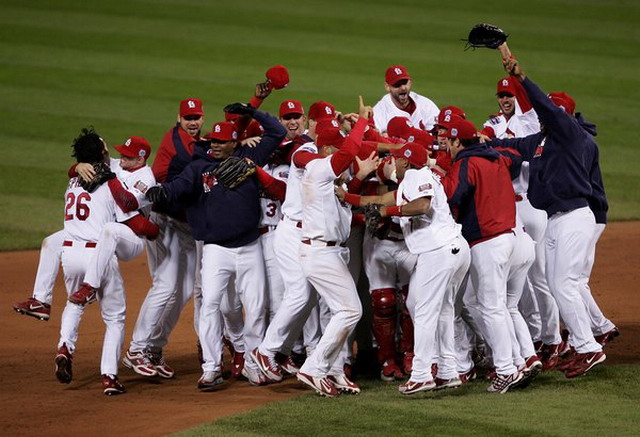 Imagine this:  You are a rabid baseball fan in St. Louis. At the end of the season, your team barely makes the playoffs. In a best out of 7 playoff World Series,  your team is down 3-2 to the Texas Rangers. Your team has to win the next two games in a row to win. The odds are stacked against you. In game 6, the lead changes 6 times before St. Louis wins! This game is proclaimed the BEST World Series Game ever, in the history of the World Series. Then, in Game 7, the St. Louis Cardinals prevail. The city rejoices!
On the other side of town, football fans have had no joy at all. Their St. Louis Rams are winless this season, having lost the first 6 games. They are considered one of the worst teams out of the 32 NFL teams – if not the worst. Sunday of week 8 comes, just days after the World Series win. Oh no! The New Orleans Saints are coming to town. Not only were they the Super Bowl winners a couple of years ago, but last week they trounced Indianapolis (another winless team, like St. Louis) by a 62-7 score.
Here we go! St. Louis Defensive End, Chris Long, comes out and swings an imaginary bat for the crowd before the game begins, to honor the Cardinals' win days before. Likewise, the Cardinals manager, Tony La Russa, is wearing a Rams jersey to honor the football team. The St. Louis Rams come out energized and score 17 half-time points on the New Orleans Saints! The New Orleans Saints have zero points at the end of the first half – a record for the Saints. You know the rest: the St. Louis Rams miraculously had their first win of the season. Coincidence? Is it possible that the positive vibes carried over from the baseball field to the football field? That the people's excitement for one team positively affect another? I believe so. . . and I think we can use the same positive experiences of others to motivate ourselves.
My sister once told me she admired me for being happy for my friend's success when I apparently had none. At the time, my friend was installing a beautiful swimming pool and Jacuzzi in her backyard. It was 1980 and I was faaar from installing anything, much less owning a home. Yet, I felt no jealousy – only happiness for my friend. Is it possible that my outpouring of joy for my friend spilled over and enabled me to have my own personal success shortly after? Again, I believe so.
So, when your life looks crappy compared to everyone else's. . . can you take your joy from a loved one's success? Can you use the positivity to empower yourself to achieve what you want to achieve? I think you know the answer.
No related posts.