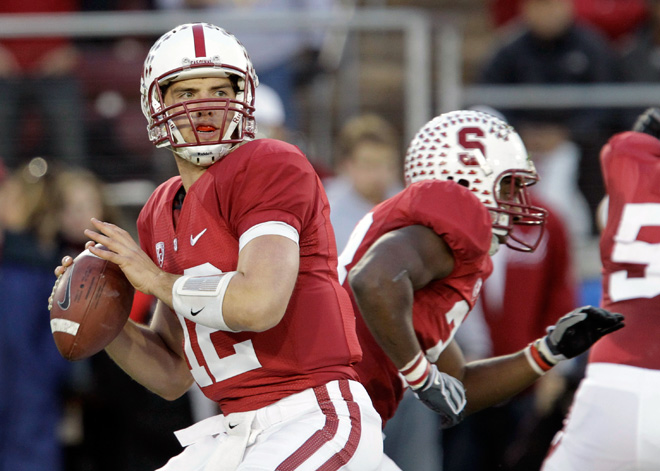 Transformation to Sports Nut complete.  In the absence of any competitive sports I love this weekend, I found myself watching the ISU World Figure Skating Championships—2012—that I dvr'd last weekend, while I was watching the Masters. . .oy vay.  Skating used to be my favorite spectator "sports" before I became addicted to football.  I still have old videocassettes I taped from waaay back, and have watched Torvill and Dean's perfect "10" Olympic performance many times.  It always gives me goosies.
So what's a sports nut supposed to do until April 26, the start of the NFL Draft?  Well, the sports pundits are just gossiping among themselves, or wondering aloud about things. . .so I guess I'll do the same.
What I'm wondering about is this:  What is going through the heads of these young men, about to be picked in the Draft, and given millions of dollars, before they turn 23?  Andrew Luck is slated to go Number One in the Draft—to Indy, who traded away Peyton Manning.  Luck has a short learning curve:  he is experienced in pro-style offense; he calls plays at the line of scrimmage like Peyton; he throws first, then runs, like Peyton.  Robert Griffin III is scheduled to go 2nd to Washington.  He came on the scene in the last year and won the Heisman trophy.  He can throw, but runs too, like Cam Newton—very exciting to watch.
The thing I wonder about with these two is if their very stable family background will have a lot to do with how fast they mature in the big boys' game of NFL football.  I suspect it will.  Both of them come from two-parent families who were far from poor; they were good students; their fathers (and RG III's mom) held prestigious jobs with leadership in the forefront.  Their families moved around a lot when they were young, and they lived in many cities, here and abroad, and attended many schools when they were little kids.  So they had to be more mature.  It will be interesting to watch these two.  In my book, I quoted my friend and ex-NFL great, Lincoln Kennedy, who played in the NFL back in the day.  He said he mentored young players right out of college, many of whom came from poverty and unstable families.  These guys were 22, suddenly with millions of dollars, and not a clue.  He said he "told them to shape up and move on from there."  With Luck and Griffin, we are looking at a new breed of young player:  stable background, more mature, values intact.  I am looking forward to seeing them excel. . .just wish the season would start already. . .15 more Sundays before the Hall of Fame game on August 5th, which always signals the start of Preseason to me. . .sigh. . .I know, I know—the NBA finals are coming. . .sigh. . can't come fast enough.
No related posts.