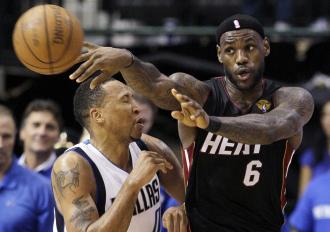 It's the triumph of the phrase, "there's no 'I' in 'team.'"  As a Human Resources professional, it warms my cockles that the teams in the NBA Finals starting Thursday night are most known for unselfish play:  most willing to pass or defer shots to a teammate better positioned to get it done.
The Miami Heat, the two-time reigning Champs have the most team-oriented superstar in the League in LeBron James.  This team was built on "team" over "I."  When LeBron decided to take his talents to South Beach, Dwyane Wade was the star in Miami (Dade County was referred to as Wade County.)  Yet, Wade gave up being "the man" when LeBron came, and said, "I'd be a fool NOT to let him be the guy."  After winning the Eastern Conference Final, Wade said, "We both want to keep promises we made to each other.  We made a promise when we got together to throw the individual stuff out the window—we win as a team."  LeBron, arguably the best player in the League said, "It's humbling playing with this team at this level."
The other team in the Finals is the San Antonio Spurs, the team who led the regular season in "passing."  In games 1 and 2 of the Western Conference Finals, they racked up 55 assists—phenomenal.  This means they know where each other is on the floor at all times.  Are you THAT aware of how close all your teammates are to reaching the team goal?  Or do you keep your head down, just concerned with your own little self?  Spurs coach Greg Popovich, has been called the best coach in the NBA, because he defines each player's role clearly, and he has a "deep bench"—all 15 players, not just the starters, can come into the game at any time and make points.
I love that the NBA keeps stats on "rebounds" and "assists."  Think about that:  how often do you congratulate yourself at the end of the day for working hard for your teammates—to make them look good?  And you entrepreneurs:  how often do you reward people on your team for making others look good?  This is admirable, and it works.
So here's our takeaway:
1.  Define roles clearly.  Managers:  you are responsible for knowing the strengths and weaknesses of every team member.  Team:  you are responsible for getting clear on your role—don't blame the manager.
2.  Success takes sacrifice.  Give up being "the man/woman" when it will help you win. (Russell Westbrook, this is why you are not in the Finals.)
3.  It's about the team; not the individuals.  Acknowledge your rebounds and assists.  They matter.
My favorite quote about team is from the wise Hindu teacher, Patanjali:  "When a gifted team dedicates itself to unselfish trust and combines instinct with boldness and effort, it is ready to climb."
Related posts: