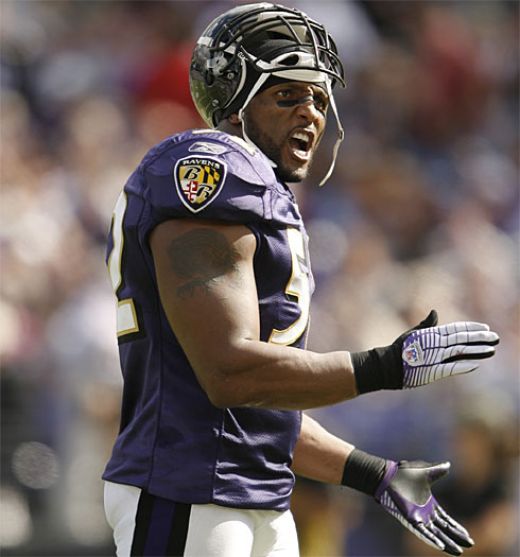 I am fascinated by Ray Lewis, the 36-year old, 15-year veteran linebacker for the Baltimore Ravens.  He holds many records for achievement on the Defense.  He also had a run-in with the law in 2000, and got 12-months probation, and since then, has been a model citizen, and THE leader of the Defense.
Here's what he said in the Ravens' locker room, right after a heartbreaking loss to the Patriots in the playoff game that would have sent them to the Super Bowl, had they won.  A missed field goal to get them into Overtime was especially painful—it was a short one, and should have been made.  So this is a moment of utter despair for these guys on the team, and Ray Lewis comes up with this impassioned, impromptu rallying cry:
"God has never made a mistake.  He's never made one mistake.  It ain't about nothin'—this year we did what we were supposed to do.  We fought as a team.  We fought as a team.  There'll be one Super Bowl champ crowned at the end of this year.  That's it!  So the way we feel?  Somebody's gonna feel like that tomorrow; somebody's gonna be feeling like that in a week.  That's a FACT!  And the fact is we gotta come back and go to work!  To make sure we finish it next time.  That's all we gotta do.
"Joe, (Flacco, the QB) you played your ass off.  You hear me, man?  I'm tellin' you, man.  Don't ever, don't ever drop your head when it comes to a loss, 'cause there's too much pain outside of this that people are really goin' through.  This right here makes us strong.  Let's understand who we are as a team.  Let's understand who we are as men.  And let's make somebody smile when we walk outta here.  We got the opportunity to keep goin', man.  Let's be stronger as a team, man.  Let's be who we are.  RAVENS ON THREE!  ONE, TWO, THREE (and they all yell RAVENS!!)"
Now, that's leadership.  He reminds his team they are a high-achieving team, no matter what the outcome.  And he urges them to see the bigger picture, and gain a little perspective.  Yeah, they're hurting now, but he reminds them about how lucky they are—they are strong athletes, who make lots of money, and can make a difference in people's lives.  When is the last time you reminded your team of those things?  Especially during those "losses" in your business,  or sad times at home, when you think it's absolutely the wrong time to motivate. . .it's the right time. . .really.  I suggest you put Ray-Ray's words above into your own vernacular, and give the gift to your team—at work, or to your loving team at home.
Related posts: