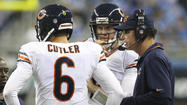 Statistics are fun.  I mean, don't you love knowing that Edison patented almost 1300 inventions in his lifetime?  Or that summer on Uranus lasts 21 years?  Or that more than 10 people a year are killed by a vending machine?  Where do they get this stuff?
Football stats are fun too.  I always love the ones at the beginning of the season, like now.  Stat:  after the first 3 weeks, if a team is 3-0, they have a 75% chance of reaching the NFL Playoffs.  If they are 0-3, their percentage is 3%.  The fourth week it looks even more bleak.  Since 1990, only ONE team that started the season 0-4 has reached the Playoffs.  After week 3, seven teams were 3-0, and 6 teams were 0-3.  Bill Parcells once said, "You are what your record says you are."
So do these teams lose heart?  Do they take their foot off the gas?  Or do they think they can beat the odds?  Do they think THEIR team can be in that 3% even if they haven't won a game?  Nope—they keep on keepin' on.  This is the important implication for US.  We have come through a hard economic time that still feels crummy.  We need to stay positive, because stats are correct, except when they are not.  Stats are NOT FACTS.
So how do we stay positive when you have followed up with someone for months, and they still will not commit to be your client?  "Stay poised in the noise."  This is what NFL coaches preach to their teams when they are going to a loud stadium for an away-game.  That's what Chicago Bears Head Coach Marc Trestman must have said to his team yesterday.  They played Detroit in Ford Field.  The fans in that stadium are SO LOUD for the home team that the visiting team can hardly hear the quarterback calling signals.  They figure out some sign language to communicate.  WE need to answer the NOISE in our heads:  "this economy sucks," "we will never make that quota," "maybe we can retire early."  As I always say, THANK YOUR MIND FOR SHARING, and then move ahead.
The Bears didn't stay poised—bummer for me.  Stay poised in the noise—in your head.
Related posts: