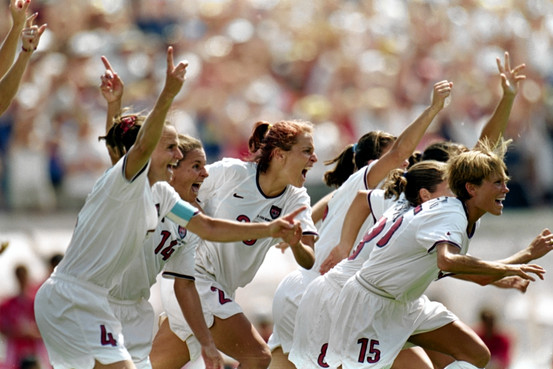 As the song goes, "I am wo-man. W-O-M-A-N." I love shopping AND sports. (46 days till the first NFL game!) My book encourages women to go for the "points," using football as the metaphor. And now I'm watching a series of documentaries on ESPN Films: Nine for IX on Tuesday nights. It was inspired by the 40th anniversary of Title IX, a part of the Education Amendment that granted women equal opportunity to participate in college sports with equal benefit of federal funding. As the ads say, "It's a show about women, by women, for us all." It's terrific TV, and supported by WISE (Women in Sports and Entertainment). I'm a member of WISE and this group is terrific, too.
So what lessons do the show highlight that are also in my book? We can always use reminding:
We're not satisfied being on the sidelines—we want to be on the field, and in the CEO Clubs, and in the Boardroom of corporate boards. Reason? When we advance women, we advance society.
Grassroots efforts for equality and civil rights are inspiring, but some citizens will not change their behavior until we pass laws that say they must. "The work goes on, the cause endures…"
No one likes to give up power. I believe women are on the path to share with men how to Em-power, so it's not really a loss, is it? This path can be lonely and difficult for us brave women.
When I speak onstage, I can't be all preachy. I educate by making you laugh. The opportunity to see me speak on how women can kick butt is coming on August 7, hosted by the Hawthorn Chamber. Their goal is to help women business owners achieve economic independence. This evening will have opportunities to meet with experts in credit, budget, and business plans. It's FREE—call 424-236-2167 or write info@hawthorne-chamber.com. See you there!
No related posts.