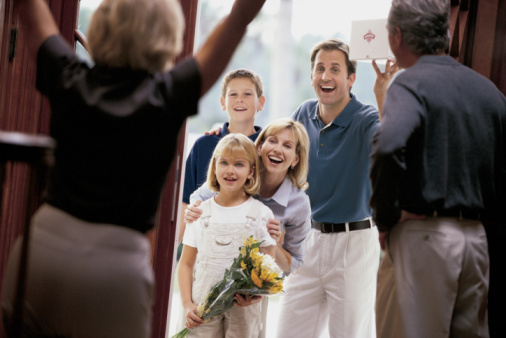 Okay, the "receiving" I refer to is not in regard to receiving a football, as you might think from the theme of my posts.  But…for those of you not yet on my email list – you are missing out! This is what I sent last week to thousands of "my people."  All you have to do is add your name over there in the right-hand column, and you will begin to receive a monthly blast which is pithy and profound (and brief
).
Here it comes again: the season of giving. . . and receiving. You will be receiving some friends and family obligations you never "receive" except during the month ahead. Once you "choose" to receive, you must now choose how to handle your behavior and attitude. A solution-focused, light-hearted approach for handling this season's anxieties comes with a tangible payoff.  You choose to be happy. Yes, but in these troubled times? And with THAT family coming over?
By following these tips, you can improve your ability to focus on what matters and enjoy your holiday.
1. Know what you can and what you can't control.
While we pride ourselves on being in control, it's critical that we understand what we can and can't control. The list of what you can control includes what you think, what you say, what you feel and do, what you put into your mouth, and what you do to your body.
Here are some things we can't control during the holiday season:
you can't invite your cousin without your cousin's wife.
you can't invite the wife without THAT banana pudding.
the relatives you visit have no guest room, and you have to sleep on the pullout bed with the saggy mattress in the path of the only bathroom.
2.  Make full use of your "Internal Whistle."
This means what it means in football.  To stop the action, the whistle blows.  We need to take a deep breath and take stock before letting a stress trigger or a whiney nephew make you go nuts and say something you'll regret.
And before you scream at your aunt for using her very best crystal when she knows at least six children under the age of three will be running by her table for two hours before the meal, blow your internal whistle and take a deep breath.
During the holidays, besides decking the halls, be sure to play the deck you're dealt and find your trump card. It may be that you are still alive to celebrate.  Have a merry month ahead.
No related posts.