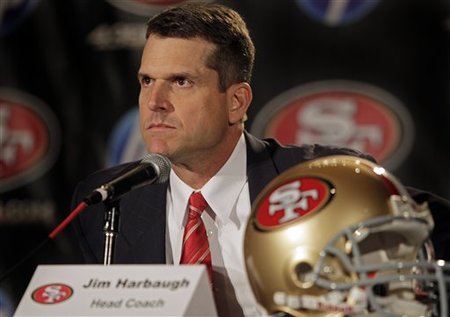 What a difference a coach makes!  I know the song title is "what a difference a day makes" and that applies, too, to my favorite game.  Yesterday—week 9 of the NFL season, was truly an example of "any given Sunday."  I know—I'm mixing my songs and movies here, but REALLY!  Anybody who picked all the winners correctly had to have psychic powers.  They call certain games "upsets."  Teams with worse records beat teams with better records on any given Sunday, but are they really "upsets?"  I believe, just like some work teams, some sports teams decide "losing is NOT an option today," and there is NO QUIT in them, and they find a way to win.
It helps if you have a fiery coach.  Now, you know the San Francisco 49ers have been a favorite team of mine since the 80's with the boyfriend from Menlo Park.  Rookie NFL Head Coach, Jim Harbaugh, who has been coaching college football at Stanford, is one fiery guy.  With basically the SAME TEAM MEMBERS, he has turned this franchise around, and they are 7 and 1, for the first time since 1997!  And they had no off-season practice to get better!  How is this possible?
Last year, Alex Smith, the QB, looked awful, and this year, he is one of the highest-rated QBs.  He has had 7 different Offensive Coordinators in 7 years.  That's hard.  And he's had such a losing record, do you think he's had to FORGET a bunch of losing plays?  You bet!  Great example of "short memory" at work—inspiring for us all. Frank Gore, the Running Back, always was a stud—now he is even more awesome.  He runs leaning forward, and has greater patience for his blockers to clear his path.  They did pick up David Akers, one of the great kickers, but he's a KICKER!  It's the leader, people, the Head Coach, making the difference.  That's why I always train business people from the top down.  Your employees are mirrors of you, their leader.  No kidding.  You want impassioned, committed employees?  It starts with you.  Watch Mr. Harbaugh at work—his passion is contagious!
Related posts: