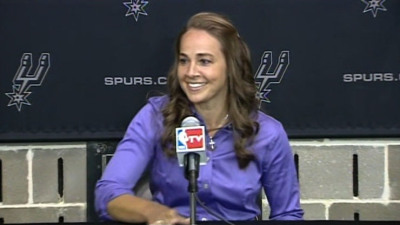 Here we are – between NBA Finals and the kickoff to the NFL season.  For the past 3 years, in August, I've blogged in this space about the NFL Hall of Fame and the NFL Preseason.  I'm angry at the NFL for not stepping up against violence to women. So this August, it's time to acknowledge how far the rest of the world has done in celebrating – not denigrating – women.
A new study finds that the companies that perform best financially have the greatest numbers of women in leadership roles.  According to the worldwide survey, in the companies that have the top 20% of financial performance, 27% of leaders are women.  Among the bottom 20% of financial performers, only 19% of leaders are women.
This recent study differs from previous studies in several ways. While most examinations of women's leadership focus on the top of the corporate pyramid, this study looked at women leaders throughout companies' organizational structure, from the C suite all the way down to supervisors of production and manufacturing teams.
What countries have the most women leaders? According to the study, Canada ranks No. 1 with a striking 50%. The Philippines and the US are tied for second with 41% and Thailand is third, at 40%.
It's worth noting that the strong showing by the US does not hold true if you look only at upper levels of management.  Just 14.6% of executive officers in the 500 highest-grossing American companies are women.  Only 4.6% of CEOs in those companies are female.  We have a long way to go. Thailand and Philippines are notable exceptions. According to one report, women make up 38% of Thai board members and CEOs.  In the Philippines, the number is an impressive 47%.
The world of professional sports has just reflected this idea whose time has come.  Gregg Popovich, whom I consider an enlightened soul, has just made history by putting a woman in leadership. He announced that six-time WNBA All-Star Becky Hammon will join the San Antonio Spurs as an assistant coach for the 2014-15 season.  Hammon has spent time with the Spurs already, while rehabbing a knee injury last winter.  Head Coach Popovich said, "I'm confident her basketball IQ, work ethic and interpersonal skills will be a great benefit to the Spurs."
The Spurs are the reigning NBA champions.  Hammon is the first woman to be named a full-time assistant in NBA history.  Do women need to achieve leadership positions in male professional sports to be considered first-class citizens?  I hope not.  I hope the NFL gets a clue, and rethinks its decision to gently slap the hand of a star player after he knocks a woman unconscious.  Shame on you, Roger Goodell.
Related posts: