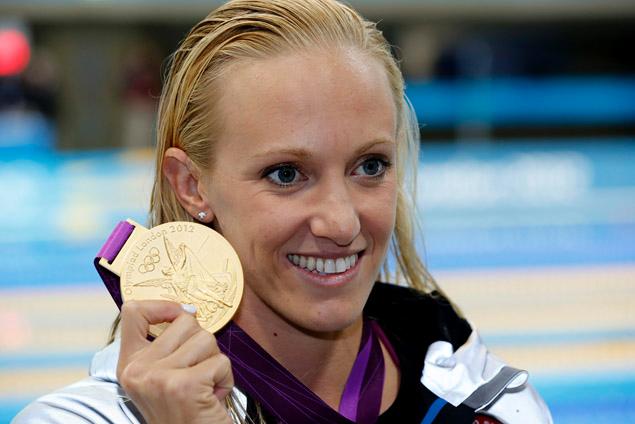 So I'm sure many of you watched the Opening Ceremonies for the Olympic Games on Friday night, and I'm sure many of you were as underwhelmed as I was.  Even if I felt like being generous, what chance did the Brits have after the Chinese choreographed 10,000 people in perfect harmony in Beijing four years ago?  Not much.  I need to get a dvd of the Beijing opener, because when I saw it in real time, I could not quite believe my eyes.
Anyhoo, the biggest Olympic news for me is that for the first time ever, the women outnumber the men in our USA delegation:  268 to 261!  Even more exciting is that the women athletes took the first two Gold medals for the USA!  Woo-hoo!  One of them was in "skeet shooting"—shotgun target shooting—and the other was swimmer Dana Vollmer, who won a gold medal and set a new world record in the 100-meter butterfly. The sports pundits are saying the women in the USA delegation are overwhelming favorites to win Gold—more than the men.  And the first results bear that out.
What I love about sport, besides watching human beings stretched to the limits of their abilities, is that it has a TRUTH to it.  It's not a judgment call; mostly, it's numbers on the clock.  Very exciting watching the women's cycling contest on Sunday.  Through the pouring rain, streets wet and slick, these ladies from all over the world cycled 25 kilometers (that's 15.5 miles to you and me).  The British lined the racing course in unprecedented numbers, because their girl, Lizzie Armitstead, was favored to win.  After all, she was the presiding world champion.  But, during the last half mile, Marianne Vos, from the Netherlands, put on a final burst of speed from second place, and overtook Armitstead to win the Gold.  How exciting!  In my limited competitive experience during my single marathon run in 1983, that last half mile was the hardest.  My running partner's husband (a veteran of 100-mile runs) yelled from the sidelines, "You guys!  The woman in front of you is 65 years old!  She's beating you!  Dig down—get your final burst of energy and go for it!"  I remember looking at Donna, and both of us almost laughed.  That WAS our final burst.  We HAD already dug down, and as the song in Chorus Line goes, "there was no-thing."  We finished behind the 65-year old, but we finished.  And THAT was the important part.
People have their own internal motivation—no one ever makes you do anything.  Missy Franklin, a 17-year old US swimming Olympian from Aurora, Colorado, does not have pushy parents.  They are from Canada, which may have a lot to do with that . . .but they chose to stay in their town and Missy's high school coach, and not trot her to L.A. or Texas to work with someone "famous."  She has won Bronze this last weekend, and is favored to win more medals today.  The fire burns inside Missy Franklin.  I'm sure her parents stoke that fire, but she lit the fire and thrives on it.  She's the one who dreams, practices, competes, has setbacks, and demands the most from her body.  Hearing her story makes me question my own internal fire.  Are we doing the most we can to achieve what we want in life?  In our businesses?  Watching the Olympic events connects me with the inner fire.  I ran my marathon in 1983, started my business in 1984.  Coincidence?  I think not.  Discipline and commitment over time is what it takes to run a marathon—and to run a business.
Related posts: