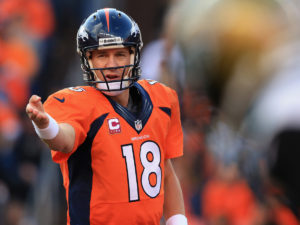 How cool is it that the NFL Playoffs and the College Championship and Bowl games happen for New Year's?  Just when we are fighting our tendency to hash over last year's regrets — the unfulfilled expectations– the thwarted intentions, here come my favorite sport's biggest contests to remind us how to start fresh.  Someone recently said, "Sports matter because they give us a chance to practice life."  And they do!  The recent games and the players demonstrate what we have to do to "come from behind" in our lives—from our businesses and personal "not-so-great-last year."  Here it is:
1.  Have a thick skin.  Last week, Andrew Luck, the Colts QB, led the second biggest comeback in NFL Postseason history.  His team was down 28 points in the third quarter.  After throwing 3 interceptions, (that's equivalent to you and I losing our 3 biggest clients or contracts in a row), he throws 4  touchdowns, and recovers a fumble for another one.  They rally and win 45-44.  Unreal?  Nope.  Andrew Luck shuts down the noise in his head (he must have some; he is human) and just gets tougher.  We can do this too, can't we?
2.  Have a short memory.  Johnny (Football) Manziel (first Freshman to ever win the Heisman last season) pulled off one of the greatest comebacks in Bowl history by coming back from 28-3.   We saw him in the first half yelling and gesturing, imploring his team on the sidelines. His team was down 38-17 at halftime, and when they went to the locker room, Johnny said passionately, "Don't look at the scoreboard!  It's zero to zero!"
3.  Ignore the circumstances.  It's NOT the circumstances.  The extreme winter storms could have been the excuse—like the bad economy—for poor performance in the last part of the NFL season.  But as Nate Burleson, Detroit's wide receiver said, "The only weather that matters is whether they want it more than we do."  Cool.  Yes, you gotta want to win, and want it bad. I call it "tenacity" in a previous blog post.  Which brings us to number 4.
4.  Find the fire in your belly.  After four neck surgeries, my Peyton Manning came back to have his best season ever!  The saying in sports is, "Never underestimate someone with something to prove."  Some will say "live your passion, and success will follow."   I say, fulfill your potential for the highest good, and use your passion to fuel that.  Peyton knows he needs to prove he can reach his highest potential, and he finds the passion to do it season after season. Find the fire in your belly that will motivate you to do the hard preparation, as the athletes do in their gym workouts and practice on the field. I call it "discipline" in a previous blog post.  Only then can we make our comeback, and isn't what New Year's is for?
Related posts: